Leaking shower floor isn't uncommon. It happens to most homes, and if not addressed or repaired immediately, it can further damage your bathroom floor. However, it's not the end for your shower; you can still save it, granted that you make the repairs. In this article, we'll walk you through the causes of leaky showers, the signs of leaks, and the top tips for repairing leaking shower floors.
Causes of Leaking Showers
Shower floors are an essential part of your bathroom. It collects the water from your shower and guides it to the drain. Years of use and lack of maintenance cause wear and tear. Cracks and leaks may also appear in time. If left unattended, these can eventually lead to significant problems making it harder to repair your leaky shower.
There are various reasons for you shower leaking. Some of the most common causes include:
Using the incorrect waterproofing product
No waterproofing used
Damaged waterproofing during tile installation
Misusing the right waterproofing products or applying them to the wrong location.
But these aren't all. Here are the other major causes of shower floor leaks.
Movement
Shower floors shouldn't move in any direction. Thus, the base should be strong enough to support them. Due to movement this allows cracks happen, when the shower floor moves and the water goes into these tiny cracks. Earthquakes and vibrations from heavy machines also cause damage. Also, check for loose tiles, missing grouts, and minor cracks every once in a while.
Poor Drainage and Deflection
Poorly constructed drainage causes water to seep between the drainage and shower floors. Instead of draining, the water pools in the surrounding floor, damaging your bathroom floor.
Installing Stone Tiles
Stone tiles are like rigid sponges that soak up large amounts of water. In fact, stone tiles hold the moisture, and this moisture may damage your shower floors in time.
Homeowners often look for an easy and temporary fix for leaking shower floors. However, these quick fixes aren't permanent. Other homeowners prefer quick fixes, thinking they will redo their bathroom anytime soon. Still, these are excuses and may even cost you more. Instead, go for permanent shower floor leaking repair to save more time and money.
Signs of Shower Floor Leaks
You must check it for leaks whenever you can. Leaks shouldn't be taken for granted for apparent reasons: leaks lead to severe floor damages and they can affect the integrity of your bathroom structure. Here are common signs of leaks to look out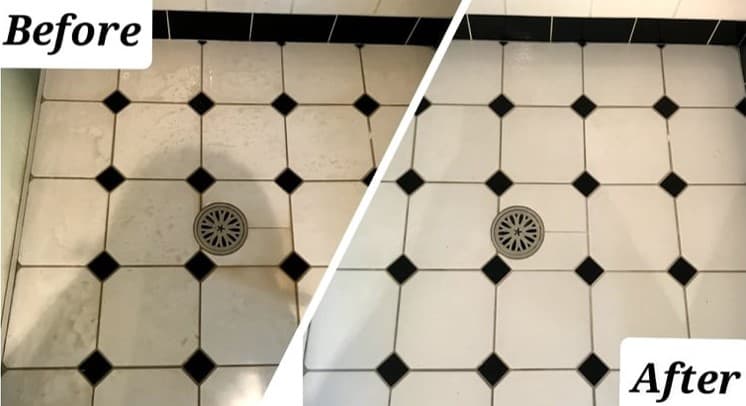 Earthy Smell
The most common leak is a musky, earthy smell. The water has no way out and no way to dry.
Water in the Bathroom Floor
Although ponding water in your bathroom floor doesn't constitute a leak by holding water in your shower floor if a crack does occur even tiny the ponding water will find its way. Water isn't supposed to get out of the floor area due to the tight fit and seals. If there are water puddles on the bathroom floor, its due to incorrect fall in your floor.
Watermarks on the ceiling
You have a severe leak if watermarks are on the ceiling below your shower area. This is true for showers on the upstairs floors. Check, clean, and dry the shower floor and duct tape the drain. Fill it with water and let it sit for 15 minutes. Check the ceiling downstairs for any water forms.
A Hike up in the Water Bill
An increase in water consumption is an obvious sign of water leaks in your pipes. However, it may be difficult to tell where the leak is. You may need to hire a Plumber to do a pressure test to check your water system and see the parts needed to be repaired.
If you spot these signs of shower floor leaking, don't delay and make necessary repairs. Don't settle for a quick fix for a leaking shower floor. For practical shower floor leaking repairs to ensure to cut cost, save time, and prevent further damage to your entire bathroom floor.
How to Find the Source of a Leaky Shower Floor
If you see a stain forming on the ceiling of your shower or if the flooring next to it is loose or wet, you may have a leaky shower drain, though it is also possible that the shower floor is leaking. Since leaks can occur from everywhere, you must determine whether the water is coming from a faulty plumbing pipe, shower drain or shower floor before you can correct the leak and fix any damage to your walls, floor, or ceiling.
1.   Spray Test
Spray water on the section you think it could be leaking. Check to see if any water leaks out after at least five minutes.
2.   Pressure Test
Call a plumber to do a pressure test on your plumbing pipes.
3.   Flood Test
Stop the drain from releasing water and fill up the shower floor with water so that it is holding water. Check to see if the leak occurs.
4.   Drain Leak Test
If your lead does not occur during a flood test but does occur with a spray test this it could be the section between the bottom of the waste grate before the puddle flange.
While some of the leak tests mentioned above could make you consider a do-it-yourself remedy, hiring a professional plumber to fix a shower leak can give you peace of mind and save you time.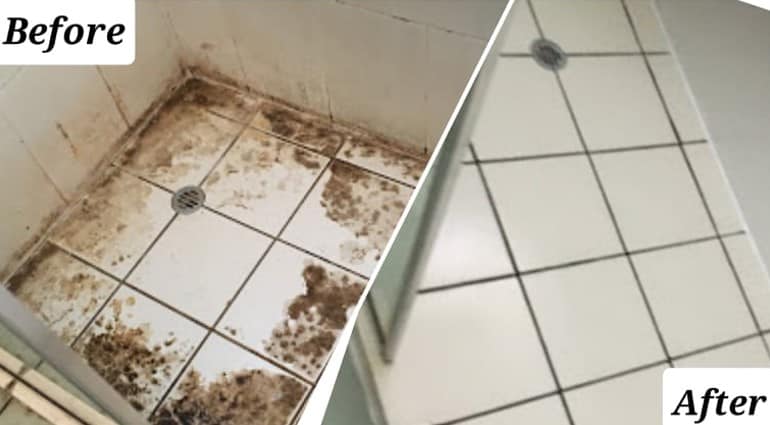 Leaking Shower Floor Repair Tips
So, what can you do about the leaks? Don't worry much about the cost. Here are some cost-effective ways to repair your leaking shower floor.
Use Clear Waterproofing Membrane.
The transparent waterproofing membrane is a two-part clear liquid similar to the typical waterproofing membrane below the tiles. However, this one is clear and can be applied over the tile. It comes in three types: gloss, satin, and matte finish. This is a cheaper option for shower floor leaks than changing the floor or putting a pre-constructed floor.
This is typically a DIY repair for shower floor leaks. Follow the instructions below: 
Remove the existing caulk/silicone. Clean the shower with chlorine and rinse thoroughly.
Check the tiles' condition. If they're still good, you will only need to replace the missing grout to bring back its former look before the leak.
Remove loose tiles and existing adhesive. Touch the surface for sponginess. Moisture means that there's still water. You need to dry it out with a heater, then replace the tile using an SMX Caulk.
Remove excess water and dry the shower floor once the grout is applied. You can use a heater or just leave it overnight to dry.
Once done, apply the transparent over-tile waterproofing membrane. Apply the caulk to the junctions.
Mix the clear waterproofing membrane part 1 and clear waterproofing membrane part 2. Apply the mixture to the first grout joints on the walls and the shower floors.
For gloss finish: Combine parts 1 and 2  and mix in the aggregate to get a gloss finish. Achieve a slip-resistant finish by applying this mixture twice.
For satin or matte finish: Leave out part 2 and just add in 5% matting paste if you want to achieve the matte finish. Add 2.5% matting paste if you want the satin finish look.
Let it dry once the application is completed. Use a dryer or leave it overnight.
Do a Grout Replacement.
Grouts can wear out in time and are of frequent use. First, use the grout scratcher to remove old grouts. Blow them out to ensure that the tiles are clean. Apply a sufficient amount between the tiles and the junctions where the tiles meet the shower walls. Use a sealant and let it dry overnight. However, this is only effective if the subfloor is still in good condition. You need to replace the shower floor because the subfloor is already worn out.
Call a Professional.
If all the DIYs is not for you why not call a licensed tradesman as them if they do leak isolation testing if they don't find one that does. They don't only have the tools, but they also have the experience and knowledge to identify the source of your shower floor leaks. Make sure to qualify and do your research before hiring. Check out their previous works, ask for their quotes or hidden costs, and ask them to walk you through their process.
How Much Does the Repair Cost?
The cost of a shower floor repair depends on many factors. Consider this case study:
 A recent example involved a shower base waterproofing failure in a home built over five years prior. The eventual cost to repair the damage resulting from the faulty workmanship was more than $240,000 (almost the original build cost)!
This is why it's critical to check for leaks every time. If you see even a tiny crack in your shower floor, make repairs immediately. Don't wait for the leak to become puddles, damaging your bathroom floor.
Cost of Clear Waterproofing Membrane
This is the cheapest option on the list. Purchase the waterproofing membrane for $135.40 for a standard shower floor leak repair. Since it's a DIY solution, you won't have to pay for services.
Professionals' Fee
Inquire of a few professionals for pricing for supply and installation. The price will depend on the extent of the repair required. The more complex the repair, the more expensive the services. Contractors handle supply and installation, so you won't need to pay for the materials separately.
There is nothing extra in making the repairs on your own. The repair is discussed as detailed and not difficult so take your time, watch all the relevant videos of which there are 20+ on each step and use the Free Help Desk for support. Through following these, you will surely do well.